THE WATERS AROUND LANZAROTE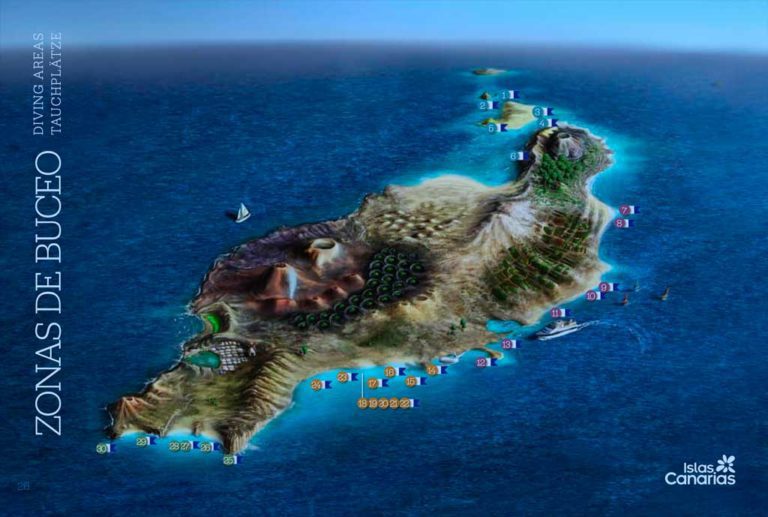 Lanzarote's waters are protected, so no harpooning or fishing is allowed here. This guarantees you healthy fish stocks around our island.
At 846 km2, Lanzarote is one of the smaller islands in the Canaries with a captivating underwater world and our dives always turn out fascinating. Often you can pause at a reef edge at 30m and have another 20m of visibility down!
In all diving areas you can expect no significant current and we only go to areas that guarantee entry and exit protected from waves.
If you divide the island into four parts, you will see that there are almost always possibilities of escape, no matter which way the winds blow.
All dive sites offer dive profiles for beginners and for the advanced divers depths of maximum 40 metres are almost always possible (…we always stay within no-decompression time of course!).
The diving areas are both varied and scenic. We also visit dive sites a little further away and then combine this with a day trip. That means two dives and then a cosy meal in one of the small restaurants along the way with typical (…and cheap) island dishes.
Many creatures have overcome the short distance from the coast of Africa to the reefs of Lanzarote (approx. 100 km) and successfully settled here. Tree and black corals can be seen here from as little as twenty-five metres.
From May to October, manta rays and sunfish come close to shore. Angel sharks and rays give birth in our waters, and some deep-sea sharks can also be seen if you are lucky.
All dive sites Bahianus visits are approved by local port and marine authorities.
Here we give you a small selection of our most visited dive sites: